Our Click and Collect Service is available in all stores.
Stock Quantities shown on this site are in REALTIME.
You can collect your purchase immediately or on the day and time of your choosing ,
following contact from our Helpdesk confirming your transaction.

DELIVERY INFORMATION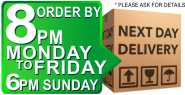 * POWERCITY NEXT DAY Delivery Service Monday to Saturday
These areas are Serviced Next Day for Large Appliances subject to capacity.
Small appliances are dispatched by courier and will be two working Days.
All other Areas Large Appliances are Serviced by courier 3-5 working days.
Delivery Charges will be shown when you add an item to your Basket and Select Home Delivery.
If you have any further Queries,
Please
Contact Us here Online
For all other areas, Please contact us here .
Providing the items you have chosen are in stock.
Items must be ordered before close of business for Next Day Delivery. Excludes Bank Holidays.
Small items may be delivered via outside couriers which can take 2-3 working days.
* Nationwide Delivery is also available within 3-5 working days.
Home Delivery Includes the Removal of Your Old Appliances for Recycling
provided they are disconnected at the time of delivery.
Delivery Charges:
To See the delivery charge for any product ,
please click the buy button to put the item in your shopping basket
then click the home delivery button which will appear directly below your shopping basket.
If you have any further Queries, Please
Contact Us here Online
Frequently asked Delivery questions
What Happens When I Arrange to Get Something Delivered?
Firstly we will arrange a delivery date.
The day before your delivery we will contact you with an approximate time for your delivery.
What Happens If I Am Not Available to Take my Delivery/Miss my Delivery?
If you will not be available to receive your delivery
Please Contact Us here Online
Quote your Transaction Number and we will reschedule your delivery.
INSTALLATION INFORMATION
Installation
We Offer an Installation Service in Certain Delivery Areas.
(To check if we provide our installation service in your area :
Contact Us Here
)
Washers , Dishwashers €30.
Freestanding Cookers (Excluding Gas) €40.
Reverse FridgeFreezer Doors €30
American Fridge Freezer Plumb in €30
Integrated Appliances (Excluding Gas)
Washers , Dishwashers (from) €60.
Refrigeration (from) €60.
Ovens , Hobs (Excluding Gas - from) €40.
Oven and Hob Pack (Excluding Gas €65.
Standard Cooker hood €40.
Integrated or Chimney Hood €60.
Reverse Doors Fridge Freezer €30.
Drill Door Washing Machine to take Hinge €15.
Natural Gas Appliance Installations
Oven €99.
Hob €99.
Cooker €99.
Dual Fuel Cooker €129.
Gas Oven and Electric Hob €129.
Electric Oven and Gas Hob €129.
Gas Oven and Gas Hob €149.
Gas installations include a Safety Certificate and up to 3 ft copper and associated fittings for hobs
or new hose for cookers and ovens.
There needs to be a working gas shut off valve and an electrical socket / connection within 1.5 meters.
Natural Gas Installations can be carried out in Dublin , Wicklow , Kildare , Meath and Drogheda Town.
Gas Installations, you must always employ a registered GAS installer.
See www.rgii.ie to find an installer in your area.
TV and Satellite Installation
FREE Estimate
Basic Satellite and Aerial installation
3 bed semi detached house into one room including tune in cable and clips etc from 130euro
Extra rooms from 90euro
Tv Installs including free pick up and delivery of your Products.
Basic Setup up to 65inch including fitting base tune in and demonstration from 49.95euro
Over 65 inch from 69.95euro
Basic on wall setup 19-36inch from 69.95euro
Elegance Package on wall setup from 139.95euro
* Rates for Installation will be assessed and agreed before starting work.
* Extra Charges May apply , and any extra parts used will be chargeable.
The installation fee is payable to the installer on completion of the installation to your satisfaction.