DELIVERY INFORMATION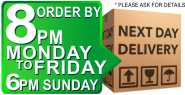 * POWERCITY NEXT DAY Delivery Service Monday to Saturday
These areas are Serviced Next Day for Large Appliances, Subject to capacity availability.
Small appliances are dispatched by courier and will be two working Days.
All other Areas Large Appliances are Serviced by courier 3-5 working days.
Delivery Charges will be shown when you add an item to your Basket and Select Home Delivery.
If you have any further Queries,
Please
Contact Us here Online
For all other areas, Please contact us here .
Providing the items you have chosen are in stock.
Items must be ordered before close of business for Next Day Delivery. Excludes Bank Holidays.
Small items may be delivered via outside couriers which can take 2-3 working days.
* Nationwide Delivery is also available within 3-5 working days.
Home Delivery Includes the Removal of Your Old Appliances for Recycling
provided they are disconnected at the time of delivery.
Delivery Charges:
To See the delivery charge for any product ,
please click the buy button to put the item in your shopping basket
then click the home delivery button which will appear directly below your shopping basket.
If you have any further Queries, Please
Contact Us here Online
Frequently asked Delivery questions
What Happens When I Arrange to Get Something Delivered?
Firstly we will arrange a delivery date.
The day before your delivery we will contact you with an approximate time for your delivery.
What Happens If I Am Not Available to Take my Delivery/Miss my Delivery?
If you will not be available to receive your delivery
Please Contact Us here Online
Quote your Transaction Number and we will reschedule your delivery.